Ecommerce Masterclass | Youmi Digital Academy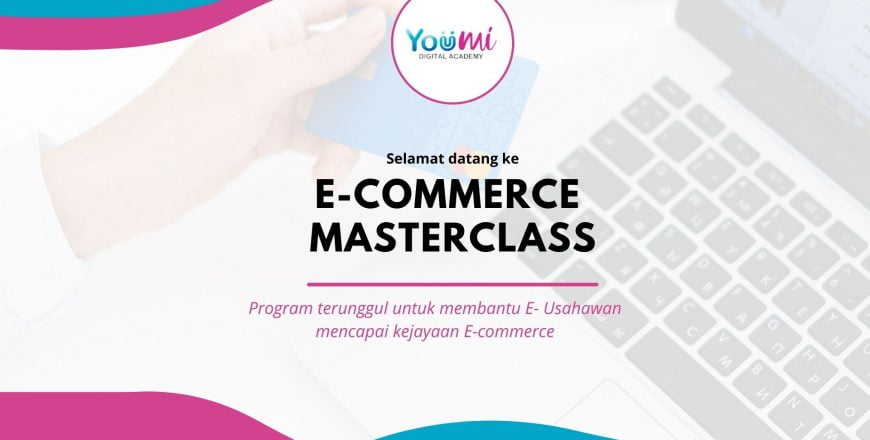 Ecommerce Masterclass Trainer: Youmeden
Membantu lebih ramai rakyat Malaysia untuk memulakan perjalanan E-usahawan dan menjana pendapatan yang baik. Matlamat kami adalah untuk membina 10,000 peluang E-usahawan ke Malaysia dan menjadikan mereka berjaya dan mencapai tahap yang lebih tinggi dengan menyediakan Program E-dagang 360 'yang merangkumi platform, latihan, dan bimbingan.
Day 1

Bermula di Shopee

Membina Profil Anda

Polisi Shopee

Menjual di Shopee

Mengurus Kewangan

Asas Pemenuhan Order

Mendapat Jualan Pertama Anda

Bermula dengan Penyenaraian

Tools untuk Penjual

Day 2

Berinteraksi dengan Pembeli

Mempromosikan Produk Anda

Tools untuk Penjual

Pulangan & Pembayaran Balik

Meningkatkan Operasi

Meningkatkan Jualan dengan Data

Penyenaraian secara Pukal

Berkembang dengan Shopee

Memperbaikkan Penyenaraian anda

Day 3

Menjalankan Kempen yang Berjaya

Menguruskan penyenaraian aset

Seller Tools (Advanced)
Ecommerce Masterclass
1.0 Bermula di Shopee
3
1.3 Polisi Penamaan Kedai di Shopee
4
1.4 Lima Elemen kedai Shopee
6
1.6 Tips memilih barang untuk jual
2.0 Polisi-polisi di Shopee
3
2.3 Listing Yang diharamkan
4
2.4 Jenis Listing yang terlarang
5
2.5 Listing barang tiruan
6
2.6 Shopee Fullfillment Policy
7
2.7 Memahami Prestasi saya di Seller Center
3.0 Fulfillment basic
1
3.1 Memenuhi Order Pertama Anda
3
3.3 Menyediakan Air Waybil
5
3.5 Memahami Jenis Modal Shipping
6
3.6 Contoh Live: Memenuhi Order di Shopee
4.0 Product Pricing/Harga Jualan
1
4.01 Mengira Harga Jualan
2
4.02 Mengira Harga Jualan di Shopee
3
4.03 Bolehkah kita mark up harga jualan tinggi-tinggi?
4
4.04 Mengira harga jualan untuk Ejen
5
4.05 Memanipulasi kos marketing untuk Melaraskan harga jualan
6
4.06 Shopee (1 Jun 2021): Marketplace Commision Fee
7
4.07 Kenapa ada orang copy Listing saya?
8
4.08 Kepentingan masuk Harga Marketing Dalam kos Jualan
9
4.09 Menentukan harga "Diskaun"
10
4.10 Bahagian "My Finance" di Shopee
Be the first to add a review.
Please,
login
to leave a review