Problem Solving and Root Cause Analysis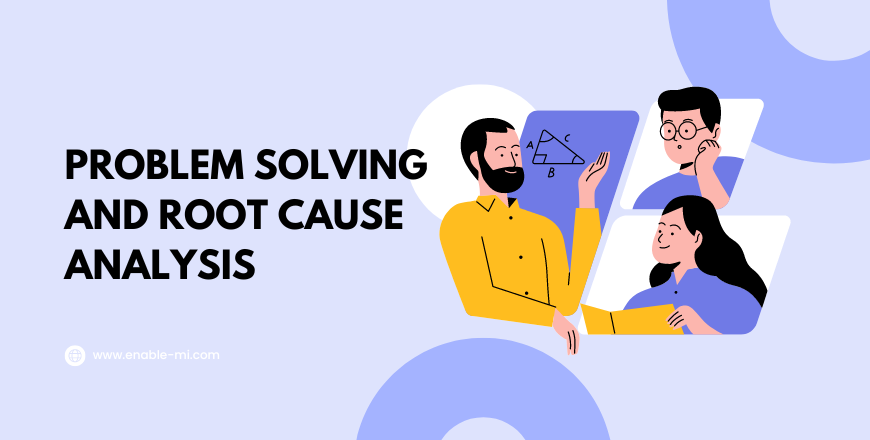 In today's fast-paced and dynamic environment, problems are inevitable. Whether in personal or professional settings, we all encounter issues that need solving. However, merely solving the problem at hand without identifying its root cause can result in the same problem resurfacing later.
This e-learning course on "Problem Solving and Root Cause Analysis" aims to equip participants with the necessary knowledge, skills, and tools to solve problems efficiently and effectively. The course will focus on identifying the root cause of problems, rather than merely addressing the symptoms, to prevent them from recurring in the future.
The course will cover various methods and tools for problem solving and root cause analysis, such as the Fishbone diagram, Pareto chart and Effects Analysis (FMEA). The course will also highlight the importance of data collection, analysis, and interpretation to ensure informed decision-making.
Participants will learn how to work collaboratively to analyze problems, generate ideas, and develop solutions. They will also learn how to evaluate the effectiveness of their solutions and make necessary adjustments to ensure continuous improvement.
By the end of the course, participants will have the skills and confidence to approach problems systematically, identify their root causes, and implement effective solutions that prevent recurrence. They will be able to work more efficiently and effectively, contributing to the overall success of their organizations.
Overall, this course is suitable for anyone who wants to enhance their problem-solving skills and become a more effective and efficient problem solver. The course is self-paced, and participants can complete it at their convenience. With the practical skills and knowledge gained from this course, participants will be well-equipped to tackle any problem they may encounter in their personal or professional lives.
Introduction
Defining Gaps and Problems
Mapping Problem Senario
1
Process at a Glance Mapping
4
Pareto Principle and Chart
5
Plotting Pareto with Excel
Cause and Effect Analysis
1
Introduction to cause and Effect
2
Anatomy of a Fish Bone Diagram
3
Doing a Fish Bone Analysis
4
Fish Bone Diagram Case Study exercises
5
X-Y Factors in Cause-and-Effect Analysis
Root Cause Analysis
1
Recapturing what we have learnt
2
Importance of Root Cause Analysis
Solution Finding
1
Finding Effective Solutions
3
Going back to the PDCA Process
Be the first to add a review.
Please,
login
to leave a review